invite - EU Digital Future Forum Webinar on November 6th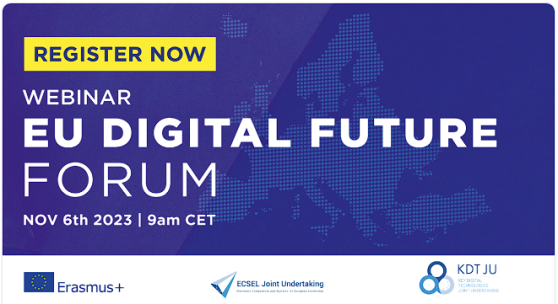 We are delighted to invite you to attend the EU Digital Future Forum Webinar, taking place on November 6, at 9am CET. The webinar will feature speakers not only from METIS but also from other EU-funded projects in the industry – HiCONNECTS, IMOCO4.E and ECoVEM.

Europe lies at a crossroads with regards to the Microelectronics sector, it is imperative to ensure that the EU continues to be an attractive investment destination for the sector. The passage of the EU Chips Act was a seminal moment highlighting the efforts going forward to promote Microelectronics.

Whether addressing the skills shortage in the EU, or developing the next generation of electronic components and systems heterogeneous integration core technology solutions, collaborations between cross-functional partners all across the continent are crucial in taking the industry to the next level.

Join us on November 6 as Laurence Dassas from X-FAB, Yvonne Bergmann from Bosch, and Dominik Zupan and Bernd Deutschmann from TU Graz speak about some of these issues.

You can find information on the webinar and registration here.